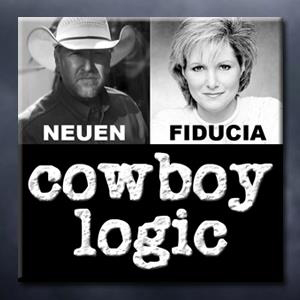 COWBOY LOGIC RADIO:  Unfiltered  /  Politically Incorrect  /  Common Sense
Hosted by DONNA FIDUCIA, a former Fox News Channel Anchor and DON NEUEN, a politically incorrect cowboy…
THIS WEEK'S GUESTS:  VINCENT CEFALU  /  STEPHANIE WHITMOYER  /  NEAL BOORTZ

Vincent Cefalu is a retired ATF Special Agent, one of the "Fast And Furious" whistle blowers, and he was sued multiple times by the Federal government for it.  His new book, "Ratsnakes, Cheating Death By Living A Lie......Inside the Explosive World Of The ATF's Undercover Agents And How We Changed The Game" is now out and available at all the usual places like Amazon, Sundance Books, Barnes and Noble and Book- A- Million.  In "Ratsnakes" Vince draws on more than 500 undercover investigations he worked on as a Federal Agent and gives the reader three decades of insight into the life of a Special Agent and the shadows of undercover work.

Stephanie Whitmoyer is a woman who was given lemons and made lemonade, well, Belvedere Delectables!  Her husband was essentially fired from AT&T after working there for decades and less than a month from full retirement.  Stephanie herself had Multiple Sclerosis and could not work so they essentially went to zero income overnight.  She launched Belvedere Delectables only a few months ago and offers gourmet baked beans and will soon have sweet potato casseroles, soups and macaroni and cheese just to name a few.  She calls her story, "Finding treasure in your trial."  Find Belvedere Delectables on Facebook, Youtube, Instagram and at BelvedereDelectables.com.   

Neal Boortz is THE Talkmaster.  A self described Libertarian, author  and attorney who was on the air for over 40 years in the Atlanta area.  He was named one of the 25 most important radio hosts in America by Talkers Magazine, one of Georgia's 100 most influential people and was inducted into the Radio Hall of Fame in 2009.  Neal comes on Cowboy Logic Radio on occasion to vent now that he's retired, and there's never a dull moment!  You can hear Neal's rants at: Connectpal.com/Boortzcast and follow him on Twitter @Talkmaster.


BROADCAST WORLDWIDE:
TUESDAYS:  9:00PM (eastern) on:
WJHC - Talk 107.5FM
WDDQ - Talk 92.1FM
WLBB - News Talk 1330AM
MoJo50 Radio
iHeartRadio

And on our Digital Flagship Station:   TALK AMERICA RADIO -  The NEW Dominant Force in Conservative Talk Radio
#TalkAmericaRadio
Visit our website at:  CowboyLogic.us