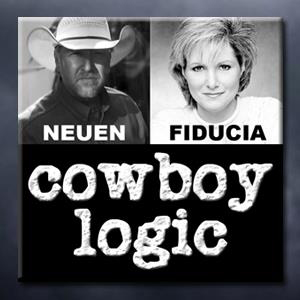 COWBOY LOGIC RADIO:  Unfiltered  /  Politically Incorrect  /  Common Sense
Hosted by DONNA FIDUCIA, a former Fox News Channel Anchor and DON NEUEN, a politically incorrect cowboy…
ENCORE PRESENTATION:  ADOL T. OWEN-WILLIAMS, II  /  JUSTIN TORRES  /  NEAL BOORTZ

Adol T. Owen-Williams, II, is someone Don and I have followed for a long time on Facebook.  He combines politics with humor, something that seems to be so lost lately.  Adol lives in the bastion of Liberalness, Montgomery County, Maryland.   He ran for County Counsel and also campaigned for Dan Bongino when Dan ran for Congress there.  Follow him on Facebook at: Adol T.Owen Williams and on twitter @TheOneAndOnlyAdol.

Justin Torres is a lawyer and US Census Analyst.  He is a member of The Federalist Society. He's represented parties in high stakes and criminal matters and was named a "rising star" by Super Lawyers of DC.  He discusses among other things the upcoming Census that will actually ask, among other things, "Are you a US citizen?"  Needless to say The Left isn't happy about that and this will surely make it's way to court.  Justin can be contacted at his law firm: Schaerr-Jaffe.com  

Neal Boortz is THE Talkmaster.  A self described Libertarian, author  and attorney who was on the air for over 40 years in the Atlanta area.  He was named one of the 25 most important radio hosts in America by Talkers Magazine, one of Georgia's 100 most influential people and was inducted into the Radio Hall of Fame in 2009.  Neal comes on Cowboy Logic Radio on occasion to vent now that he's retired, and there's never a dull moment!  You can hear Neal's rants at: Connectpal.com/Boortzcast and follow him on Twitter @Talkmaster.

BROADCAST WORLDWIDE:
TUESDAYS:  9:00PM (eastern) on:
WJHC - Talk 107.5FM
WDDQ - Talk 92.1FM
WLBB - News Talk 1330AM
MoJo50 Radio
iHeartRadio

And on our Digital Flagship Station:   TALK AMERICA RADIO -  The NEW Dominant Force in Conservative Talk Radio
#TalkAmericaRadio
Visit our website at:  CowboyLogic.us