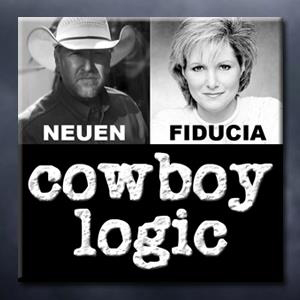 COWBOY LOGIC RADIO:  Unfiltered  /  Politically Incorrect  /  Common Sense
Hosted by DONNA FIDUCIA, a former Fox News Channel Anchor and DON NEUEN, a politically incorrect cowboy…
THIS WEEK'S GUESTS:  JOHN SPIROPOULOS  /  KATHLEEN WILLEY  /  NEAL BOORTZ

John Spiropoulos is a filmmaker and reporter.  His videos series, "Assault on the Constitution" reports on the illegal surveillance of Team Trump.  These reports were first published by www.theconservativetreehouse.com.  It has provided the most comprehensive coverage of this story anywhere.  It also has an almost endless vault of resources for you to do a deep dive into the subject. If you want to stay up to date on this story, visit the CTH website.  John is a former TV news reporter in Washington, DC.  He wrote and produced these reports utilizing many sources including the Conservative Treehouse and the government documents it's published.  This report focuses on the Obama administration's Illegal spying of the Trump Campaign.  It includes discussion of the FISA warrant and the House and Senate investigations of the executive branch's misleading search warrant application to the FISA Court. Former U.S. attorney Joseph DiGenova says he expects former top FBI officials to be charged criminally.  Please visit all of John's great work at his YouTube page.

Kathleen Willey is a victim and survivor of President Bill Clinton along with Juanita Broaddrick, Paula Jones, Leslie Milwee and Jennifer Flowers just to name a few.  She authored: Target, Caught In The Crosshairs Of Bill And Hillary Clinton, which is available on Amazon.  Despite that the #metoo movement essentially ignored these women.  But Kathleen also worked at the White House and as we get into the Christmas season she gave us a radio Christmas Card talking about what most people will never see- all the rooms in the White House decorated for the Holidays, portraits that hung on the walls of the various rooms, pictures that were changed out and what it was like working in the  social office of the White House right down to the china pattern that each President and First Lady picked.  Kathleen is active on Facebook and again her book is available on Amazon. 

Neal Boortz is THE Talkmaster.  A self described Libertarian, author  and attorney who was on the air for over 40 years in the Atlanta area.  He was named one of the 25 most important radio hosts in America by Talkers Magazine, one of Georgia's 100 most influential people and was inducted into the Radio Hall of Fame in 2009.  Neal comes on Cowboy Logic Radio on occasion to vent now that he's retired, and there's never a dull moment!  You can hear Neal's rants at: Connectpal.com/Boortzcast and follow him on Twitter @Talkmaster.
BROADCAST WORLDWIDE:
TUESDAYS:  9:00PM (eastern) on:
WJHC - Talk 107.5FM
WDDQ - Talk 92.1FM
WLBB - News Talk 1330AM
MoJo50 Radio
iHeartRadio

And on our Digital Flagship Station:   TALK AMERICA RADIO -  The NEW Dominant Force in Conservative Talk Radio
#TalkAmericaRadio
Visit our website at:  CowboyLogic.us