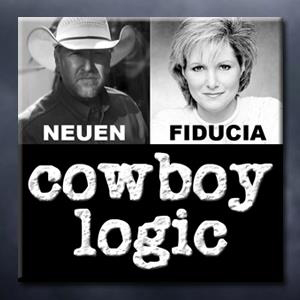 COWBOY LOGIC RADIO:  Unfiltered  /  Politically Incorrect  /  Common Sense
Hosted by DONNA FIDUCIA, a former Fox News Channel Anchor and DON NEUEN, a politically incorrect cowboy…
THIS WEEK'S GUESTS:  DR. ALVEDA KING  /  MARK LEVIN (Special Discussion)  /  DR. CAROL SWAIN  /  DR. ELAINA GEORGE

Dr. Alveda King is the niece of Dr. Martin Luther King, Jr. and a former Georgia Congresswoman.  She is also an Evangelist and is the Director of Civil Rights For The Unborn For Priests For Life.  She has a new cookbook out for the holidays titled: "GG's Home For The Holidays", second edition, available on December 15th, and she has a new album, "Tender Moments Alone With God".  Dr. King stresses the need for love and unity in America.  You can find her CD's and books on Amazon, and connect with her on Twitter: @AlvedaCKing, her website: AlvedaKing.com, and CivilRightsForTheUnborn.org.  "Sanctity of life from the womb to the tomb."

Dr. Carol Swain is an author, conservative speaker and former law professor at Princeton University and Vanderbilt University.  She was featured in Dinesh D'Souza's  movie, "Hillary's America" and is the voice behind "Be The People News", (BeThe PeopleNews.com), a blog and podcast dedicated to empowering individuals to think independently and understand their responsibility and unique ability to make a difference in the world.  Her latest book is titled, "Debating Immigration" and can be found on Amazon.  And her latest article: Reasonable or Racist?  Trump's policies on the Central American Caravan, talks about how immigration follows economics, demographics, race, law policy and religion.  Dr. Swain can be found on Facebook at: ProfCarolMSwain and on Twitter @CarolMSwain and her website: CarolMSwain.com and her podcast is: AmericaOutLoud.com/Carol-Swain. 

Dr. Elaina George is THE go-to person for everything about how to circumvent Obamacare.  She is an ear, nose and throat doctor in Atlanta and received her education at Princeton University, Mt. Sinai and Manhattan Eye, Ear and Throat in NYC.  Her book: "Big Medicine: The Cost of Corporate Control, how doctors and patients working together can build a better system" is available on Amazon.  She also hosts a radio show titled: Medicine On Call which can be found on itunes and Spotify.  Dr. Elaina has been on all the major news channels and is an advocate for Liberty Healthshare, a health sharing ministry that helps families and individuals take control of their healthcare costs.  Find all her information on her website: DrElainaGeorge.com, and for Liberty Healthshare at LibertyOnCall.org.

BROADCAST WORLDWIDE:
TUESDAYS:  9:00PM (eastern) on:
WJHC - Talk 107.5FM
WDDQ - Talk 92.1FM
WLBB - News Talk 1330AM
MoJo50 Radio
iHeartRadio

And on our Digital Flagship Station:   TALK AMERICA RADIO -  The NEW Dominant Force in Conservative Talk Radio
#TalkAmericaRadio
Visit our website at:  CowboyLogic.us