Episodes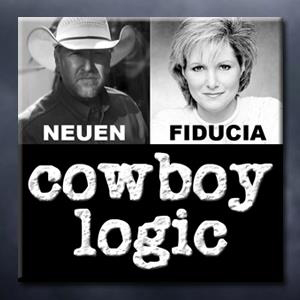 Wednesday Oct 14, 2015
Wednesday Oct 14, 2015
COWBOY LOGIC RADIO:  Unfiltered  /  Politically Incorrect  /  Common Sense
Hosted by DONNA FIDUCIA, a former Fox News Channel Anchor and DON NEUEN, a politically incorrect cowboy…
SPECIAL EDITION!!  POST DEMOCRAT PRESIDENTIAL DEBACLE REPORT

THIS WEEK'S GUESTS:  DENISE SIMON / PREMO MONDONE / PAUL PRESTON / TOM DEL BECCARO

Join us for this special edition of Cowboy Logic Radio as we analyze and discuss the first Democrat Presidential Debacle in Las Vegas...  Experts Denise Simon (The Denise Simon Experience), Premo Mondone (Red State Town Hall), Paul Preston (Agenda 21 Radio) and Tom Del Beccaro (US Senatorial Candidate from California) join us for a lively, informative and politically incorrect show!
LIVE WORLDWIDE:  WEDNESDAYS  -  12:05AM - 2:00AM (eastern)...  RedStateTalkRadio.com
Thursday Sep 17, 2015
Thursday Sep 17, 2015
SPECIAL EDITION  -  POST REPUBLICAN DEBATE

GUESTS:  STANLEY LEVY, DENISE SIMON, PREMO MONDONE, DONNA FIDUCIA, and DON NEUEN

SPECIAL GUEST:  TOM DEL BECCARO

Hosted by point man Shaun Adkins:  Marine Corps veteran, author, fed up American, and father concerned for his children's future.
Advancing conservative principles with a healthy dose of politically incorrect humor, bold truths, and in-your-face common sense mixed with a little military flavor, to pummel the left and revive America.
Enlist your family and friends to join us, because the war for America's soul is raging… and SQUASHING LIBERALISM is a team effort.
Please find Squashing Liberalism on Facebook: Squashing Liberalism

BROADCAST LIVE WORLDWIDE:  THURSDAYS - 12:05AM - 2:00AM (eastern)