Episodes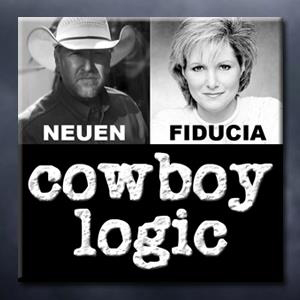 Tuesday Jun 05, 2018
Tuesday Jun 05, 2018
COWBOY LOGIC RADIO:  Unfiltered  /  Politically Incorrect  /  Common Sense
Hosted by DONNA FIDUCIA, a former Fox News Channel Anchor and DON NEUEN, a politically incorrect cowboy…
THIS WEEK'S GUESTS:  GERALD "JERRY" MOLEN  /  CHARLES K. ORTEL

Gerald "Jerry" Molen is an Academy Award winning producer for Shindler's List, and has Produced numerous blockbuster films such as Jurassic Park, Rain Man, Days of Thunder and Hook.  In fact, you can see the name, "Molen" painted across the front of the large black cauldron in the movie, "Hook"! 
Recently Jerry has produced Dinesh D'Souza's movies:  2016: Obama's America, Hillary's America: The Secret History of the Democratic Party, and America, Imagine the World WIthout Her.  He is currently also producing Dinesh's new movie due out in August of 2018 titled, Death of a Nation.  Find all of Dinesh's great work and information at: DineshDSouza.com

Charles K. Ortel is an investment banker, asset manager and experienced analyst who knows how to read financials like nobody else!  Charles called the demise of GE years ago when it was a Blue Chip Stock, and more recently calling The Clinton Foundation a fraud back in 2015 when everybody thought that was not the case. 
Charles' works can be read in World Net Daily, Lifezette, Breitbart, Bloomberg and The Washington Times.  He's been featured on just about all newschannels and on Russian TV!  His recent work with NY- based Filmmaker Jason Goodman has received tens of thousands of views on YouTube. Find Charles' work at: CharlesOrtel.com and with Jason Goodman at: CrowdSourceTheTruth.org

BROADCAST WORLDWIDE:
TUESDAYS:  9:00PM (eastern) on:
WJHC - Talk 107.5FM
WDDQ - Talk 92.1FM
WLBB - News Talk 1330AM

And on our Digital Flagship Station:   TALK AMERICA RADIO -  The NEW Dominant Force in Conservative Talk Radio
#TalkAmericaRadio
Visit our website at:  CowboyLogic.us