Episodes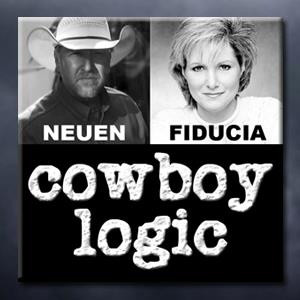 Tuesday Jan 01, 2019
Tuesday Jan 01, 2019
COWBOY LOGIC RADIO:  Unfiltered  /  Politically Incorrect  /  Common Sense
Hosted by DONNA FIDUCIA, a former Fox News Channel Anchor and DON NEUEN, a politically incorrect cowboy…
ENCORE PRESENTATION:  DANIEL KRAUTHAMMER  /  COL. JEFFREY CLARK, US ARMY (ret.)  /  COL. ROB MANESS, USAF (ret.)

Daniel Krauthammer, is the son of renowned political columnist, Pulitzer Prize winning author, physician and Fox News Channel Commentator, the late Charles Krauthammer.  For the last years of his dad's life Daniel worked to edit his father's final work: The Point Of It All: A Lifetime Of Great Loves And Endeavors.  This was a labor of love, literally, and Daniel talked about how deeply loving and personal this was for him to do.  Charles Krauthammer wrote columns for the Washington Post for 33 years that was picked up by over 400 other outlets.  This book features his last enduring words on the state of politics in America today, the nature of Liberal Democracy and World History.  You can get the book on Amazon, and Charles' website:  CharlesKrauthammer.com.  You can also follow Daniel Krauthammer on Faceboook and on twitter @dkrauthammer.

Col. Jeffrey Clark, US ARMY (ret.) was deployed in support of Operation Enduring Freedom and was the Director of Critical Care.  He enlisted in 1982, and received a Silver Star among many other medals.  We initially interviewed Jeffrey from Afghanistan where he gave us a first hand idea of what it was like over there.  He was directly responsible for patient care.  Colonel Clark is the son of the late SFC James T. Clark, who also was a Silver Star recipient during the Korean War- and Jeffrey often talks about how extremely proud he was to follow in those fine footsteps.  Follow Jeffrey on Facebook and on twitter @WarriorRN61   

Col. Rob Maness USAF (ret.) was on duty at the Pentagon on 9-11.  He was a B-1 Squadron Commander and Bronze Star recipient.  He is big on National Security and wrote part of the Nuclear Football Code.  He ran for Senator in Louisiana and now hosts The Rob Maness Show on The Blaze/CRTV where he lays the smackdown on the Mainstream Media.  You can read his recent Op-Ed in Breitbart and follow him on Facebook at The Rob Maness Show, and his website: RobManess.com.  He also runs Gatorpac.com, that supports like - minded Constitutional Conservatives for office. 

BROADCAST WORLDWIDE:
TUESDAYS:  9:00PM (eastern) on:
WJHC - Talk 107.5FM
WDDQ - Talk 92.1FM
WLBB - News Talk 1330AM
MoJo50 Radio
iHeartRadio

And on our Digital Flagship Station:   TALK AMERICA RADIO -  The NEW Dominant Force in Conservative Talk Radio
#TalkAmericaRadio
Visit our website at:  CowboyLogic.us