Episodes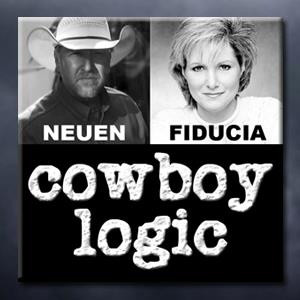 Tuesday Jan 22, 2019
Tuesday Jan 22, 2019
COWBOY LOGIC RADIO:  Unfiltered  /  Politically Incorrect  /  Common Sense
Hosted by DONNA FIDUCIA, a former Fox News Channel Anchor and DON NEUEN, a politically incorrect cowboy…
THIS WEEK'S GUESTS:  DAVID WEBB  /  DR. PAUL NATHANSON  /  JOHN MILKOVICH  /  DR. PETER VINCENT PRY

David Webb is officially Black!  You recently saw him on TV being accused of benefiting from White Privilege from a CNN Legal Analyst and Activist who he had to inform that he indeed is Black live on the air!  David is the host of The David Webb Show on SiriusXM Patriot channel 125, and he hosts "Reality Check" on Fox Nation.  David has filled in for Laura Ingraham, Fox and Friends, Outnumbered  and various other Fox shows.  Follow David on Twitter @DavidWebbShow and you can find all his information at: WebbMedia.com

Dr. Paul Nathanson is a retired Professor in the field of Religious Studies and Ethics at McGill University.  He and Co- Author Katherine Young wrote 4 books on how men are being vilified today: Spreading Misandry: The Teaching Of Contempt For Men In Popular Culture, Legalizing Misandry, Replacing Misandry and Sanctifying Misandry.  All available on Amazon.  We discuss how the American Psychological Association has declared aspects of traditional masculinity as harmful and how political ideologies have taken the place of religion.  You can email Dr. Paul at: Wordwatcher@videotron.ca.

John Milkovich is an attorney and State Senator in Louisiana and he is also the author of: Robert Mueller: Errand Boy For The New World Order, which is available at Amazon.  He discusses how Robert Mueller was involved in law enforcement in the Whitey Bolger case in Boston, where the FBI covered for the Mob and Mueller was a US Attorney in Boston at the time.  He also discusses Mueller's other questionable actions like being the newly appointed FBI Director a few weeks before 9-11 and the Saudi Royal family was allowed to be airlifted out of the US immediately afterwards, Urianium One, Ruby Ridge and Pan Am 103. This is a must read to see who the real Robert Mueller is.  Follow Senator Milkovich on Facebook at: JohnMilkovichForSenate and on Twitter @John_Milkovich

Dr. Peter Vincent Pry is probably the world's foremost authority on the threat of EMP's- (electro magnetic pulse).  He was featured on CR-TV and on Fox's "Life, Liberty and Levin".  Dr. Pry is the Executive Director of the Task Force on National and Homeland Security. He served on the Congressional EMP Commission as Chief Of Staff, the Congressional Strategic Posture Commission, the House Armed Services Committee and the CIA.   We had the pleasure of meeting and introducing Dr. Pry at last year's South Carolina Tea Party Coalition Convention.   In this week's Cowboy Logic Radio Show Dr. Pry discusses his latest column for Newsmax in which he discusses how the US is ignoring Russia's inevitable nuclear superiority.  He has articles coming out shortly in The Washington Times as well.  Dr.Pry says his goal is to protect against an EMP, mass destruction against terrorist attacks and other civilian critical infrastructure threats.  His book, "Blackout Wars" is a must read for anyone who wants to protect against an EMP threat.  His other books are: "Apocalypse Unknown" and "Electric Armageddon" all of which are available on Amazon.   

BROADCAST WORLDWIDE:
TUESDAYS:  9:00PM (eastern) on:
WJHC - Talk 107.5FM
WDDQ - Talk 92.1FM
WLBB - News Talk 1330AM
MoJo50 Radio
iHeartRadio

And on our Digital Flagship Station:   TALK AMERICA RADIO -  The NEW Dominant Force in Conservative Talk Radio
#TalkAmericaRadio
Visit our website at:  CowboyLogic.us