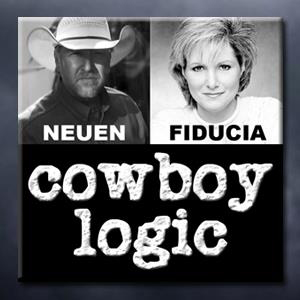 COWBOY LOGIC RADIO:  Unfiltered  /  Politically Incorrect  /  Common Sense
Hosted by DONNA FIDUCIA, a former Fox News Channel Anchor and DON NEUEN, a politically incorrect cowboy…
THIS WEEK'S GUESTS:  DAN SUBOTNIK  /  JOHN MAHER  /  J. ERSKINE PAYTON

Dan Subotnik is a Professor of Law at Tauro Law School on New York's Long Island.  Over a decade ago, he wrote a book ironically titled: "Toxic Diversity: Race, Gender, and Law Talk in America."  Our nation is facing an epidemic of false allegations, bias investigators, and a weakening of the presumption of innocence.  One in ten persons are falsely accused of sexual assault, domestic violence or child abuse.  Some feel in the long run this is actually hurting women in the workplace.  Connect with the Professor on Facebook: Tauro Law Center, and on Twitter @TauroLawCenter.  
John Maher is a military appeals lawyer based in Chicago.  Only 1% of Americans serve in uniform.  These heroes dedicate their lives to serving our country.  But John is currently representing 1st Lt. Clint Lorance who is serving time in Leavenworth after essentially engaging enemy combatants in Afghanistan, and under the Obama rules of engagement was charged with murder.  John contends we've been witness to a corrupted Judicial system whereby attorneys and judges are micromanaging our battlefields.  John is appealing this case contending proof was withheld  that included DNA and fingerprints.  Unfortunately Clint's case is not the only one.  Many of our heroes are in this same situation.  Contact John at: LawyersDefendingWarriors.com, MaherLegalServices.com and for Clint's case: FreeClintLorance.com.

J. Erskine Payton is "Erskine Overnight" heard on some 60 stations across the US on the Genesis Communications Network and Sunday afternoons on TalkAmericaRadio.US and Mojo50 Radio.  Erskine has "A" List guests on his three hour show and we love to cross promote the other great shows on our network!  Check out Erskine at: ErskineOvernight.com.   

BROADCAST WORLDWIDE:
TUESDAYS:  9:00PM (eastern) on:
WJHC - Talk 107.5FM
WDDQ - Talk 92.1FM
WLBB - News Talk 1330AM
MoJo50 Radio
iHeartRadio

And on our Digital Flagship Station:   TALK AMERICA RADIO -  The NEW Dominant Force in Conservative Talk Radio
#TalkAmericaRadio
Visit our website at:  CowboyLogic.us