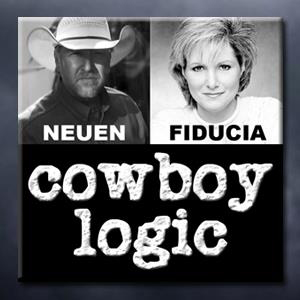 COWBOY LOGIC RADIO:  Unfiltered  /  Politically Incorrect  /  Common Sense
Hosted by DONNA FIDUCIA, a former Fox News Channel Anchor and DON NEUEN, a politically incorrect cowboy…
THIS WEEK'S GUESTS:  RICHARD BACHERT  /  CHARLES K. ORTEL  /  VICTOR DAVIS HANSON

Richard Bachert served in the Air Force, 1962-66, and is a retired businessman in Georgia that lends his unique insight into what is happening in America through his life's experiences.  Through the years he's appeared on numerous radio and TV shows with political insights and a push for a National Sales Tax. He also appeared on the Morton Downey, Jr. show several times!  Richard is a recurring commentator on WLBB's "Community Voice" program out of Carrollton, Ga.  On YouTube find him at: Richard Bachert, and on Twitter @RichardBachert. 

Charles Ortel is THE go to guy for all things about the Clinton Foundation.  Charles is an investment banker and asset manager so he knows how to read financial documents like nobody's business!  He predicted the demise of GE over a decade ago, and has exposed fraudulent The Clinton Foundation.  Charles also hosts a TV show on YouTube with filmmaker, Jason Goodman called, Sunday With Charles that has a huge following.  Charles has been on all the major news channels  exposing the millions that have disappeared from the Clinton Foundation.  Read his latest at: CharlesOrtel.com, and with Jason  Goodman at: CrowdSourceTheTruth.Org 
Victor Davis Hanson is a thinker, historian and patriot.  He is the author of more than 12 books, the latest titled: "The Case For Trump," which is available on Amazon.  Victor is a Senior Fellow at the Hoover Institute, a regular contributor to the Fox News Channel, and you can read his latest in notable websites like National Review, TownHall.com and The Washington Times.  Victor is also featured this month in "The Limbaugh Letter."   You can follow Victor's great work on Facebook: Victor Davis Hanson, Twitter:  @VDHanson and online at Hoover.org and VictorHanson.com.  

BROADCAST WORLDWIDE:
TUESDAYS:  9:00PM (eastern) on:
WJHC - Talk 107.5FM
WDDQ - Talk 92.1FM
WLBB - News Talk 1330AM
MoJo50 Radio
iHeartRadio

And on our Digital Flagship Station:   TALK AMERICA RADIO -  The NEW Dominant Force in Conservative Talk Radio
#TalkAmericaRadio
Visit our website at:  CowboyLogic.us