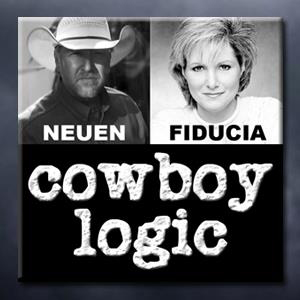 COWBOY LOGIC RADIO:  Unfiltered  /  Politically Incorrect  /  Common Sense
Hosted by DONNA FIDUCIA, a former Fox News Channel Anchor and DON NEUEN, a politically incorrect cowboy…
THIS WEEK'S GUESTS:  ERNST ROETS  /  BRENDI WELLS  /  JON JACKSON

Ernst Roets is an author, Deputy CEO of Afri-Forum, CEO of Forum Films, a civil rights activist and scholar of Constitutional Law in South Africa. His book: "Kill the Boer: Government Complicity in South Africa's Brutal Farm Murders".  This is happening NOW with very little media attention.  The White Boer Farmers have actually been told, "Your time is up" and the South African government is grabbing their land and many are being brutally murdered in the most horrific ways.  Ernst joins our friend from South Africa, Brendi Wells to discuss what they feel is a test for what is trying to be pushed in other ways here in the US.  You can buy his book on Amazon, and follow his work at AfriForum.co.za.

Brendi Wells grew up in South Africa during Apartheid Era and witnessed its transformation out of Apartheid in 1994.  Brendi joined Mr. Roets and talked about the problems she faced moving to the US and problems she is still having years later trying to protect her family still in South Africa.  Imagine waking up every day and checking your phone to make sure your family is still alive.  Gun rights have been essentially taken away and there is total lawlessness in many areas.  Brendi's husband, John B. Wells, hosts a wonderful radio show across the nation on Saturday nights titled Arc Midnight, and an Internet TV show Caravan to Midnight.  You can find all the information at: CaravanToMidnight.com

Jon Jackson is a US Army Airborne Ranger Veteran that served SIX combat tours overseas, 2 in Iraq and 4 in Afghanistan.  Like most veterans returning home he struggled to return to everyday family and professional life.  He spoke about hitting rock bottom and how his son essentially saved his life. Now he is working to help other vets through farming.  Please follow and donate to this worthy effort by going to StagVetsInc.org, which stands for "Strength To Achieve Greatness".  You can also follow his work by searching for "Comfort Farms."

BROADCAST WORLDWIDE:
TUESDAYS:  9:00PM (eastern) on:
WJHC - Talk 107.5FM
WDDQ - Talk 92.1FM
WLBB - News Talk 1330AM
MoJo50 Radio
iHeartRadio

And on our Digital Flagship Station:   TALK AMERICA RADIO -  The NEW Dominant Force in Conservative Talk Radio
#TalkAmericaRadio
Visit our website at:  CowboyLogic.us