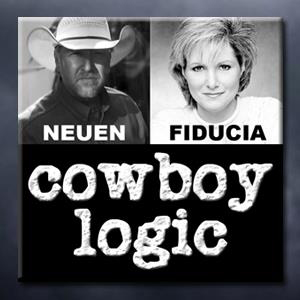 COWBOY LOGIC RADIO:  Unfiltered  /  Politically Incorrect  /  Common Sense
Hosted by DONNA FIDUCIA, a former Fox News Channel Anchor and DON NEUEN, a politically incorrect cowboy…
THIS WEEK'S GUESTS:  DAVID HOROWITZ  /  TRAN LANKFORD  /  DIANA WEST

David Horowitz is a bestselling Author of numerous books including NY Times bestseller, "Big Agenda: President Trump's Plan to Save America".  He has been a political commentator for decades that chronicled his life from campus radical to Conservative spokesperson.  His latest book: "Dark Agenda, The War To Destroy Christian America", is pretty much self explanatory, especially in the light of attacks on Christianity not only in the US but around the world.  David was educated in the bastion of "Liberalness", Berkeley and Columbia, and his first book that really woke many people up (including Donna Fiducia) was, "Radical Son: A Generational Odyssey" which first was released in 1997.  (Don, on the other hand, has always been a true Conservative, but both Donna and Don feel this book should be required  reading for Millennials!).  David is the founder of the David Horowitz Freedom Center and Front Page Magazine, (FrontPageMag.com) which is a website that has many talented contributors.  He has also published a series of books that chronicle the American Left that can be found at: AgendaOfTheAmericanLeft.com, and on how our education system is indoctrinating our children at: StopK12Indoctrination.org.  Along with Peter Collier he also wrote about America's "royal families" including The Kennedys, Fords and Rockefellers.  You can find all of David's great works at FrontPageMag.com or at Amazon.

Trân Lankford is a LEGAL immigration success story and now a trial lawyer practicing in the Atlanta area.  She is of Vietnamese descent and ironically she did this interview on the 44th anniversary of the fall of Saigon.  Her father, who proudly served in the South Vietnamese Army as a Second Lieutenant, learned how to fly a helicopter in the United States before returning to Vietnam to serve in battle.  Lt. Colonel Bill Cowan, USMC (ret.) described the Warriors of the South Vietnamese Army as "the most brave soldiers he ever had the privilege of serving with in combat".  After the fall of Saigon, Trân's father was taken as a POW by the North Vietnamese Communist Government.  After five long years as a POW in a "re-education camp", he was released.  It was then, Trân, her little brother and parents made their way to the United States through Malaysia and the Philippines with only the clothes on their backs. She discusses her incredible life's story, legal immigration and the state of immigration today from her of someone who truly appreciates all America has to offer those who want to make a better life through the freedoms the United States offers.

Diana West is a syndicated Columnist, Commentator and Author who works with Frank Gaffney's Center For Security Policy.  Her columns appear every Friday in The Washington Times, and you can also read her in The Wall Street Journal, Weekly Standard, The Washington Post and TownHall.com.  Her new book is titled, "The Red Thread, A Search For Ideological Drivers Inside The Anti- Trump Conspiracy".  Diana exposes the radical Left using facts, history and documentation.  Her other writings include, "American Betrayal, The Secret Assault On Our Nation's Character" and "The Death Of The Grown- Up".  With Frank Gaffney, James Woolsey and Andrew McCarthy she co- authored, "Sharia, The Threat To America".  Find all of Diana's latest writings and books by going to DianaWest.com.

BROADCAST WORLDWIDE:
TUESDAYS:  9:00PM (eastern) on:
WJHC - Talk 107.5FM
WDDQ - Talk 92.1FM
WLBB - News Talk 1330AM
MoJo50 Radio
iHeartRadio

And on our Digital Flagship Station:   TALK AMERICA RADIO -  The NEW Dominant Force in Conservative Talk Radio
#TalkAmericaRadio
Visit our website at:  CowboyLogic.us