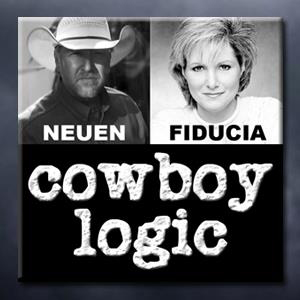 COWBOY LOGIC RADIO:  Unfiltered  /  Politically Incorrect  /  Common Sense
Hosted by DONNA FIDUCIA, a former Fox News Channel Anchor and DON NEUEN, a politically incorrect cowboy…
THIS WEEK'S GUESTS:  MOLLY GILL  /  TOM DEL BECCARO  /  DAVID HOROWITZ

Molly Gill is the Vice President of Policy for Families Against Mandatory Minimums,(FAMM.Org).  FAMM is a non profit sentencing reform organization.  After Kim Kardashian brought this to light, President Trump commuted the sentence of Alice Marie Johnson, who was serving a life sentence for a first time drug offense.  Molly is a lawyer with almost 15 years of experience in the criminal justice field.  She helps coordinate FAMM's sentencing reform campaigns.

Tom Del Beccaro is a lawyer, author and former head of the California Republican Party.  Tom also ran for Senate in California.  His website, PoliticalVanguard.Com is a wealth of information!  Tom is a contributor for The Weekly Standard, Breitbart, Daily Caller, the Washington Times and Forbes.  He is also the author of The Divided Era and The New Conservative Paradigm.
David Horowitz is a well known author and political commentator for decades that chronicle his life from campus radical to Conservative spokesperson.  His latest book, Big Agenda: President Trump's Plan to Save America, is a New York times bestseller.  David is the founder of the David Horowitz Freedom Center and Front Page Magazine, (FrontPageMag.com). He has also published a series of books that chronicle the American Left that can be found at: AgendaOfTheAmericanLeft.com, and on how our education system is indoctrinating our children at: StopK12Indoctrination.org.

BROADCAST WORLDWIDE:
TUESDAYS:  9:00PM (eastern) on:
WJHC - Talk 107.5FM
WDDQ - Talk 92.1FM
WLBB - News Talk 1330AM

And on our Digital Flagship Station:   TALK AMERICA RADIO -  The NEW Dominant Force in Conservative Talk Radio
#TalkAmericaRadio
Visit our website at:  CowboyLogic.us