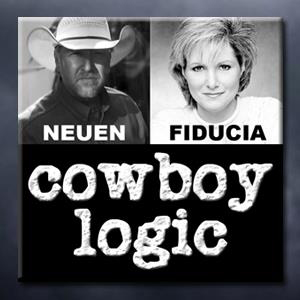 COWBOY LOGIC RADIO:  Unfiltered  /  Politically Incorrect  /  Common Sense
Hosted by DONNA FIDUCIA, a former Fox News Channel Anchor and DON NEUEN, a politically incorrect cowboy…
THIS WEEK'S GUESTS:  LEO KNIGHT  /  LAMONT BANKS  /  CHARLES K. ORTEL

Leo Knight is a retired Royal Canadian Mounted Police Officer and he also worked in law enforcement with the Vancouver Police Department.
Leo is a security expert and shared his perspective of law enforcement with regard to leadership, the Middle East, the Canadian Socialist healthcare system vs. the United States "soon to be Socialist" healthcare system, US Presidential candidates and how to proceed in the future.
He has written a newspaper column for 30 years and his website is: PrimeTimeCrime.com

Lamont Banks is the Executive Director of, "A Just Cause Radio" at AJCRadio.com,  where he calls out injustices in the criminal justice system.  The IRP 6 was a case of six men who were prosecuted by  an over- zealous criminal justice system in a theft of intellectual property case.
After 9-11, these patriots were inspired to design software that would have enabled law enforcement and other government agencies to communicate more efficiently.
Five of these men are still in prison, and all this happened when one Robert Mueller was FBI Director. This is something that you'd think only happens in Communist countries, but it happened in the US.  Lamont is working tirelessly to seek justice for these men. 

Charles K. Ortel is an investment banker, asset manager and experienced analyst who knows how to read financials like nobody else!  Charles called the demise of GE years ago when it was a Blue Chip Stock, and more recently calling The Clinton Foundation a fraud back in 2015 when everybody thought that was not the case. 
Charles' works can be read in World Net Daily, Lifezette, Breitbart, Bloomberg and The Washington Times.  He's been featured on just about all newschannels and on Russian TV!  His recent work with NY- based Filmmaker Jason Goodman has received tens of thousands of views on YouTube. Find Charles' work at: CharlesOrtel.com and with Jason Goodman at: CrowdSourceTheTruth.org
BROADCAST WORLDWIDE:
TUESDAYS:  9:00PM (eastern) on:
WJHC - Talk 107.5FM
WDDQ - Talk 92.1FM
WLBB - News Talk 1330AM

And on our Digital Flagship Station:   TALK AMERICA RADIO -  The NEW Dominant Force in Conservative Talk Radio
#TalkAmericaRadio
Visit our website at:  CowboyLogic.us