Episodes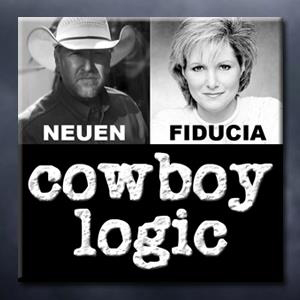 Tuesday Jul 24, 2018
Tuesday Jul 24, 2018
COWBOY LOGIC RADIO:  Unfiltered  /  Politically Incorrect  /  Common Sense
Hosted by DONNA FIDUCIA, a former Fox News Channel Anchor and DON NEUEN, a politically incorrect cowboy
THIS WEEK'S GUESTS:  ADAM ANDRZEJEWSKI  /  FRANK GAFFNEY  /  JUDGE JEANINE PIRRO

Adam Andrzejewski, is the Founder and CEO of OpenTheBooks.com, the world's largest private database of government spending.  Adam's works have been featured on Good Morning America, ABC World News Tonight, USA Today and Fox News just to name a few.  He authored, "Track Government Spending on Your Phone," and OpenTheBooks.com has a mobile app for you to do just that!  Adam was a candidate for the Governor of Illinois and was endorsed by Polish President, Lech Walensa. OpenTheBooks.com also conducts investigations of government spending.  On OpenTheBooks.com you can search by zip code of just how your tax dollars are used, and in most cases abused right in your own neighborhood.  They also have a mobile app so you can easily search from the convenience of your mobile phone.  You can also find this great organization on Facebook  and on twitter @openthe_books.

Frank Gaffney is a National Security Expert, Founder, President and CEO of the Center For Security Policy, found at: SecureFreedom.org.  He also hosts Secure Freedom Radio, a nationally syndicated radio program heard across the country including on our network, Talk America Radio, (TalkAmericaRadio.US).  The Center For Security Policy is a Nationally and Internationally recognized resource for timely and informative analysis of foreign and defense policy matters.  Mr. Gaffney is also the author of Shariah: The threat To America, as well as over a dozen other books.  In 1987 he became President Reagan's Asst. Secretary of Defense for International Security Policy, a senior position in the Defense Dept.  He was also a professional staff member on the Senate Armed Services Committee.

Judge Jeanine Pirro is the host of "Justice With Judge Jeanine," seen every Saturday on the Fox Newschannel.  Cowboy Logic Radio was thrilled to interview the Judge and reconnect with her as she and Donna worked together at Fox years ago.  Judge Jeanine is a highly respected District Attorney and County Judge, politician, legal commentator, champion of victim's rights and now author of the new book, "Liars,Leakers and Liberals- The Case Against The Anti-Trump  Conspiracy", which shot to the top of the New York Times bestseller list already!  Judge Jeanine won a Daytime Emmy for her daily syndicated court show, "Judge Pirro." and boasts a notable legal career that spans over 30 years.  You can find "Liars, Leakers and Liberals" on Amazon.com and all the other usual places.  You can also follow the Judge on Facebook, or her websites: JudgeJeaninePirro.com and of course, FoxNews.com.

BROADCAST WORLDWIDE:
TUESDAYS:  9:00PM (eastern) on:
WJHC - Talk 107.5FM
WDDQ - Talk 92.1FM
WLBB - News Talk 1330AM
MoJo50 on Dash Radio

And on our Digital Flagship Station:   TALK AMERICA RADIO -  The NEW Dominant Force in Conservative Talk Radio
#TalkAmericaRadio
Visit our website at:  CowboyLogic.us