Episodes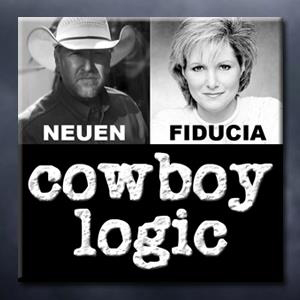 Tuesday Aug 14, 2018
Tuesday Aug 14, 2018
COWBOY LOGIC RADIO:  Unfiltered  /  Politically Incorrect  /  Common Sense
Hosted by DONNA FIDUCIA, a former Fox News Channel Anchor and DON NEUEN, a politically incorrect cowboy
THIS WEEK'S GUESTS:  JAMES STEVENSON (Conservative High School Student)  /  DENISE SIMON  /  TOM DEL BECCARO

James Stevenson  - We had the pleasure of interviewing "James Stevenson", whose name has been changed for this interview to protect the innocent!  James is a Millennial who attends a public high school and just started his Junior year.  Already he is realizing IF he has ANY Conservative thoughts he better keep them to himself.  He told us he got worse grades if he answered questions that was contrary to what the teacher taught and there were  NO history textbooks- just power points so any other information that could be taught never gets out.  We were heartened to hear James feels he's not alone- there are many young people who do and feel the way he does.  He is also an entrepreneur, who sells items he finds at local thrift shops and sells they for more on Ebay.  Kudos to James, a future Capitalist despite the public education system!

Denise Simon is THE "go to" source for cutting edge information.  She is a contributor to Tom Del Beccaro's PoliticalVanguard.com website and her own website is Founderscode.com.  Denise hosts her own show on the Talk America Radio network on Thursday nights from 9-11P ET, and Co- hosts the "Drive Time Sit Rep"- (Situation Report), with Don Neuen.  Denise also contributes to a number of shows on the Talk America Radio Network like The Captain America's Third Watch with Matt Bruce which originates out of Tampa but is heard nationwide, and The Scott James Show on WDDQ out of Valdosta, Georgia.

Tom Del Beccaro is a former head of the California Republican Party, business attorney.  He has authored two books, "The New Conservative Paradigm" and "The Divided Era" which was written in 2015 but is extremely prophetic given what is happening in our country today.  His website: PoliticalVanguard.com is a wealth of knowledge and a wonderful "go- to" website for cutting edge information.  Tom has been seen on most major news programs on radio and TV and his columns have appeared in The Washington Examiner, Breitbart, The Daily Caller and Forbes.   Follow Tom on Facebook and Twitter @PoliticalVanguard an stay informed!

BROADCAST WORLDWIDE:
TUESDAYS:  9:00PM (eastern) on:
WJHC - Talk 107.5FM
WDDQ - Talk 92.1FM
WLBB - News Talk 1330AM
MoJo50 on Dash Radio

And on our Digital Flagship Station:   TALK AMERICA RADIO -  The NEW Dominant Force in Conservative Talk Radio
#TalkAmericaRadio
Visit our website at:  CowboyLogic.us