Episodes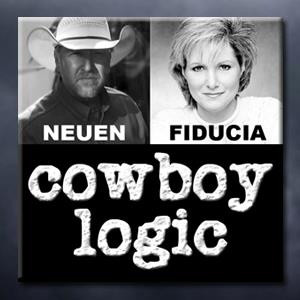 Tuesday Sep 03, 2019
Tuesday Sep 03, 2019
COWBOY LOGIC RADIO:  Unfiltered  /  Politically Incorrect  /  Common Sense
Hosted by DONNA FIDUCIA, a former Fox News Channel Anchor and DON NEUEN, a politically incorrect cowboy…
THIS WEEK'S GUESTS:  NEAL BOORTZ  /  BENJAMIN SMITH, US Navy SEAL  /  JUDGE JEANINE PIRRO

Neal Boortz is THE Talkmaster.  A self described Libertarian, author  and attorney who was on the air for over 40 years in the Atlanta area.  He was named one of the 25 most important radio hosts in America by Talkers Magazine, one of Georgia's 100 most influential people and was inducted into the Radio Hall of Fame in 2009.  He's a tireless crusader for The Fair Tax and The Convention Of States.  Neal comes on Cowboy Logic Radio on occasion to vent now that he's retired, and there's never a dull moment!  You can hear Neal's rants at: Connectpal.com/Boortzcast and follow him on Twitter @Talkmaster. 

Benjamin Smith is a Navy Seal and Veteran who is a tireless patriot and swore, "To defend The Constitution from enemies foreign and domestic."  We met Ben at the 2014 South Carolina Tea Party Coalition Convention, when he dropped a Quran on the floor to make a point- that Islam IS NOT compatible in any way, shape or form with the US Constitution, and became a target of CAIR.  Ben worked with John Guandolo who also works to inform Americans about Islam and Sharia Law.  To learn more about this topic please visit John Guandolo's website:  UnderstandingTheThreat.com.

Judge Jeanine Pirro is the host of "Justice With Judge Jeanine," seen every Saturday on the Fox News Channel.  Cowboy Logic Radio was thrilled to interview the Judge and reconnect with her as she and Donna worked together at Fox years ago.  Judge Jeanine is a highly respected District Attorney and County Judge, politician, legal commentator, champion of victim's rights and author of the New York Times bestseller, "Liars, Leakers and Liberals- The Case Against The Anti-Trump  Conspiracy."  Now she has a follow- up to that best seller, "Radicals, Resistance and Revenge, The Left's Plot To Remake America."  Judge Jeanine won a Daytime Emmy for her daily syndicated court show, "Judge Pirro." and boasts a notable legal career that spans over 30 years.  You can find her books on Amazon.com and all the other usual places.  You can also follow the Judge on Twitter @JudgeJeanine and on Facebook, or her websites: JudgeJeaninePirro.com and of course, FoxNews.com.

BROADCAST WORLDWIDE:
WJHC - Talk 107.5FM
WDDQ - Talk 92.1FM
MoJo50 Radio
iHeartRadio
Cowboy Logic Radio

Visit our website at:  CowboyLogic.us
Email us at:  CowboyLogicRadio@gmail.com