Episodes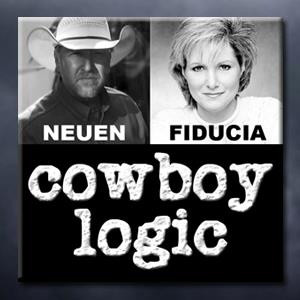 Tuesday Sep 17, 2019
Tuesday Sep 17, 2019
COWBOY LOGIC RADIO:  Unfiltered  /  Politically Incorrect  /  Common Sense
Hosted by DONNA FIDUCIA, a former Fox News Channel Anchor and DON NEUEN, a politically incorrect cowboy…
THIS WEEK'S GUESTS:  DR. JAMES MITCHELL  /  CLARE M. LOPEZ  /  COMMANDER JENNIFER CARROLL, USN (Ret.)

Dr. James Mitchell is a serious "BAD ASS" that we are proud to call our friend!  He is a Clinical Psychologist who helped develop the CIA's enhanced interrogation program better known as "Waterboarding."  Dr. Mitchell interrogated 14 senior terrorists including Khalid Sheikh Mohammad, the mastermind behind the 9-11 attacks.  Barack Obama shut down these interrogations almost as soon as he became President in 2009.  Dr. Mitchell also served 22 years in the Air Force and retired as a Lt. Colonel.  In addition to his expertise as an interrogator, he is a trained hostage negotiator, consulted with the CIA, FBI and NSA on many topics including psychologically profiling war criminals, predicting violence and handling hostages wired to explosives.  His expertise gave him an interesting take on Dr. Ford's testimony in the Brett Kavanaugh confirmation hearings for our Cowboy Logic audience.  You might also catch Dr. Mitchell on Fox Business and the Fox Newschannel as well as other news channels.  In this segment he discusses how KSM is still awaiting trial 18 years after 9-11.  Dr.Mitchell is also the author of the book: "Enhanced Interrogation- Inside The Minds and Motives of the Islamic Terrorists Trying To Destroy America", which you can buy in all the usual places.  Please purchase Dr. Mitchell's book!
Clare M. Lopez is the Vice President for Research and Analysis at the Center For Security Policy: CenterForSecurityPolicy.org and SecureFreedom.org.  Clare is a policy and intelligence expert with a focus on National Defense, Islam,Iran and Counter- terrorism issues.  She is a former Career Operations Officer with the CIA.  She was named to the Congressional Task Force on National and Homeland Security which focuses on the Electro Magnetic pulse, (EMP), and it's threat to America.  She served as a member of The Citizens Commission on Benghazi and is a regular contributor to print and broadcast media such as Newsmax.com, Glassoffgang.com, and Sharia Crime Stoppers with Tom Trento's TheUnitedWest.org.  She is the author of "The Rise of The Iran Lobby" and the Center's study: "Sharia: The Threat to America" and the Secure Freedom Strategy: A Plan For Victory Over The Global Jihad Movement."  She has also written for The Daily Caller, DailyCaller.com and the Citizen's Commission On National Security, CCNationalSecurity.org.
Commander Jennifer Carroll, USN (ret.) is the former Lt. Governor of Florida, highly decorated Navy Commander and best- selling author of: "When You Get There, An Autobiography".  Commander Carroll is the first female Lt. Gov. of Florida, a Republican, and the first African-American AND Caribbean-American elected state wide.  She immigrated legally to America from the West Indies.  If that's not enough she's a former Exec. Dir. of Florida's Dept. of Veteran's affairs and was recently appointed by President Trump to The American Battle Monuments Commission.  She is also the National Spokesperson for MaggiesList.org - which seeks to empower Conservative women in business and politics.  Please learn more about this amazing woman by going to her website: JenniferCarroll.com.
BROADCAST WORLDWIDE:
WJHC - Talk 107.5FM
WDDQ - Talk 92.1FM
MoJo50 Radio
iHeartRadio
Cowboy Logic Radio

Visit our website at:  CowboyLogic.us
Email us at:  CowboyLogicRadio@gmail.com