Episodes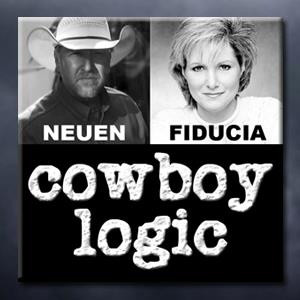 Tuesday Oct 15, 2019
Tuesday Oct 15, 2019
COWBOY LOGIC RADIO:  Unfiltered  /  Politically Incorrect  /  Common Sense
Hosted by DONNA FIDUCIA, a former Fox News Channel Anchor and DON NEUEN, a politically incorrect cowboy…
THIS WEEK'S GUESTS:  DR. PETER PRY  /  GORDON CHANG  /  TEISHA POWELL

Dr. Peter Vincent Pry is, in our option, the world's foremost authority on the threat of EMP's- (electro magnetic pulse).  He was featured on CR-TV and on Fox's "Life, Liberty and Levin".  Dr. Pry is the Executive Director of the Task Force on National and Homeland Security. He served on the Congressional EMP Commission as Chief Of Staff, the Congressional Strategic Posture Commission, the House Armed Services Committee and the CIA.   We had the pleasure of meeting and introducing Dr. Pry at last year's South Carolina Tea Party Coalition Convention.  Dr.Pry says his goal is to protect against an EMP, mass destruction against terrorist attacks and other civilian critical infrastructure threats.  His book, "Blackout Wars" is a must read for anyone who wants to protect against an EMP threat.  His other books are: "Apocalypse Unknown" and "Electric Armageddon" all of which are available on Amazon.  Dr. Pry's latest articles appeared in Newsmax.com and The Washington Times.

Gordon Chang is the author of the books, "Losing South Korea" and "The Coming Collapse Of China".  His 2006 Random House book, "Nuclear Showdown: North Korea Takes On The World," is still quite relevant today.  Noted for his expertise on Asia, Gordon has been seen on virtually all news channels including Fox News and Fox Business.  His writings on China and North Korea have appeared in the New York Times, the Wall Street Journal, The Weekly Standard and National Review just to name a few.  Gordon appeared before the House Committee on Foreign Affairs and the U.S.-  China Economic and Security Review Commission.  Those in the NYC area can hear Gordon on the powerhouse WABC Radio Monday and Wednesday nights on the John Batchelor Show.  Find more of Gordon's latest at his website: GordonChang.com and make sure you follow Gordon on Twitter at:  @GordonGChang

Teisha Powell is a nationally recognized Legal Analyst, a Jamaican immigrant, lawyer and author of the new book: Trump Must Win: Discover The Dark Days Americans Will Face If Trump Isn't Re- Elected In 2020, which is available in all the usual places.  Teisha talked about how she is a legal immigrant and how many in the minority community love Donald Trump but are afraid to admit it.  She discussed how the Democrat Party has let the Black Community down and how Obamacare was NEVER meant to work, but open the US up to Socialism.  Find Teisha on Facebook at: TeishaPowellFl, and her website: InsuranceLawyerTish.com and follow her on Twitter @Teisha_Powell. 

BROADCAST WORLDWIDE:
WJHC - Talk 107.5FM
WDDQ - Talk 92.1FM
MoJo50 Radio
iHeartRadio
Cowboy Logic Radio

Visit our website at:  CowboyLogic.us
Email us at:  CowboyLogicRadio@gmail.com