Episodes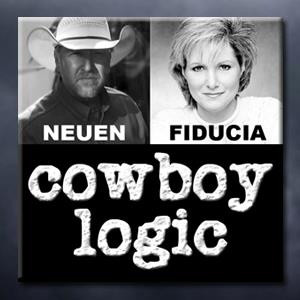 Tuesday Oct 22, 2019
Tuesday Oct 22, 2019
COWBOY LOGIC RADIO:  Unfiltered  /  Politically Incorrect  /  Common Sense
Hosted by DONNA FIDUCIA, a former Fox News Channel Anchor and DON NEUEN, a politically incorrect cowboy…
THIS WEEK'S GUESTS:  KCARL SMITH  /  TOM DEWEESE  /  MG PAUL VALLELY, US ARMY (ret.)
KCarl Smith is a public speaker and launched his "Conservative Messenger" in 2009.  KCarl was inspired by the guiding principles of the Founding Fathers and his mission is to enlighten, educate, empower and equip it's members based on the Frederick Douglass Republican Methodology.

Frederick Douglass was born a slave during the time of Lincoln and died a multi millionaire by today's standards. KCarl uses Douglass and his story as an effective strategy to re- ignite America's passion for liberty, personal responsibility, respect for the Constitution and limited government.  KCarl's methodology essentially "Trumps" the race card through his education, (pun intended).  Visit his website at: LibertyMessengerUSA.org and the online course and teaching tools can be found at: DiversityEngagement.Org
Tom DeWeese is the President of The American Policy Center, which is a leading advocate for individual liberty, free enterprise, private property rights and American sovereignty and independence.  He is the author of a number of books including: "Sustainable- The War On Free Enterprise, Private Property and Individuals".  "Erase"- A Political Thriller. "Now Tell Me I Was Wrong" and "Agenda 21" which are all available at the usual places.  Tom's latest article was about the war on the beef industry.  You can read all his articles and learn more on these important topics by going to AmericanPolicy.org.

Major General Paul E. Vallely, US ARMY (ret.) is a West Point graduate and went on to lead a distinguished 32 year military career.  He retired in 1991 as Deputy Commanding General of the US Army, Pacific in Honolulu.

General Vallely is a graduate of the Infantry School, Ranger and Airborne Schools, Jumpmaster School, the Command and General Staff School, The Industrial College of the Armed Forces and the Army War College. His combat service in Vietnam included positions as infantry company commander, intelligence officer, operations officer, military advisor and aide-de-camp. He has over fifteen (15) years experience in Special Operations, Psychological and Civil-Military Operations.
He served in many overseas theaters to include Europe and the Pacific Rim Countries as well as two combat tours in Vietnam. He has served on US security assistance missions on civilian-military relations to Europe, Japan, Korea, Thailand, Indonesia and Central America with in-country experience in Indonesia, Columbia, El Salvador, Panama, Honduras and Guatemala. He has served as a consultant to the Commanding General of the Special Operations Command as well as the DOD Anti-Drug and Counter -Terrorist Task Forces. He also designed and developed the Host-Nation Support Program in the Pacific for DOD and the State Department. He has in-country security assistance – experience in Israel, Iraq, Kuwait, El Salvador, Columbia and Indonesia in the development of civil-military relations interfacing with senior level military and civilian leadership.
General Vallely has been a military analyst on television and radio for over ten years. He is also a guest lecturer on National Security, international political, economic issues, strategic planning matters and the Global War against Radical Islam and other threats to America. He and LTG Thomas McInerney authored the book, "Endgame" – Blueprint for Victory for Winning the War on Terror", "Warfooting" and "Baghdad Ablaze". He is a member and founder of the Iran Policy Committee. He is the Chairman of Stand Up America. He was the senior military analyst for the Fox News Channel from 2000 -2007.  General Vallely conducts an average of 4-6 national radio show interviews per week and is well known for his published articles on a multitude of subjects and issues.  Please visit:  http://www.StandUpAmericaUS.org
BROADCAST WORLDWIDE:
WJHC - Talk 107.5FM
WDDQ - Talk 92.1FM
MoJo50 Radio
iHeartRadio
Cowboy Logic Radio
Visit our website at:  CowboyLogic.us
Email us at:  CowboyLogicRadio@gmail.com