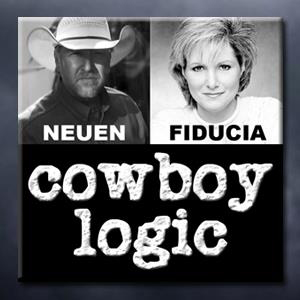 COWBOY LOGIC RADIO:  Unfiltered  /  Politically Incorrect  /  Common Sense
Hosted by DONNA FIDUCIA, a former Fox News Channel Anchor and DON NEUEN, a politically incorrect cowboy…
THIS WEEK'S GUESTS:  JOE FLYNN  /  MAHGDALEN ROSE  /  DAVID WEBB

Joe Flynn is the brother of LTG Michael Flynn.  General Flynn worked in the Obama Adm. and was highly critical of the Iran Nuke Deal.  After what he thought was informal discussion at the request of then Deputy Director of the FBI, Andrew McCabe, General Flynn was forced to resign and later plead guilty when that conversation was leaked.  This later ended up also leading to the appointment of Special Council Robert Mueller.  Many felt Gen. Flynn was framed, and he is now being represented by the wonderful attorney Sidney Powell.  She has found that evidence was withheld from General Flynn and former FBI Director James Comey admits the FBI sought to trap him.  In the meantime this patriot has lost everything including his house.  There is a hearing on November 7th.  A defense fund has been set up for Gen Flynn:  MikeFlynnDefenseFund.org.  Anything you can give would be greatly appreciated.

Mahgdalen Rose is 20 years old going on 60!  She is wise well beyond her years.  She grew up in New York City and Boston, and as early as 4th grade remembers being ridiculed when she wore a McCain button to school.  She is doing her part to wake up fellow Millennials and make us parents proud!  She is host of The Rose Report on the Caravan To Midnight YouTube channel, #RoseReport and on Twitter @MahgdalenRose.

David Webb hosts the 9-Noon ET show on SiriusXM Patriot channel 125 as well as "Reality Check" on Fox Nation.  You've seen him hosting Fox and Friends as well as "Outnumbered" on occasion.  David also writes for The Hill and Breitbart News.  Follow him on Faceboook at David Webb, on Twitter @DavidWebbShow and his website: WebbMedia.com.

BROADCAST WORLDWIDE:
WJHC - Talk 107.5FM
WDDQ - Talk 92.1FM
MoJo50 Radio
iHeartRadio
Cowboy Logic Radio
Visit our website at:  CowboyLogic.us
Email us at:  CowboyLogicRadio@gmail.com