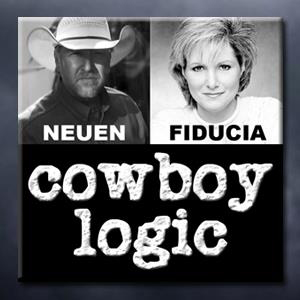 COWBOY LOGIC RADIO:  Unfiltered  /  Politically Incorrect  /  Common Sense
Hosted by DONNA FIDUCIA, a former Fox News Channel Anchor and DON NEUEN, a politically incorrect cowboy…
THIS WEEK'S GUESTS:  TOM DEL BECCARO  /  BRIAN MALONEY  /  JOHN GUANDOLO

Tom Del Beccaro is a lawyer, author and former head of the California Republican Party.  He also ran against Kamala Harris for Senate in the formerly golden State.  His website: PoliticalVanguard.com provides a wealth of commentary and information.  Tom's writings have appeared in Forbes, The Washington Examiner, Breitbart and The Daily Caller among others and he frequently appears on TV and radio programs.  His books include "The Divided Era", which is quite prophetic given the political climate in America, and "The New Conservative Paradigm".  

Brian Maloney helped launch the #Metoo movement when he arranged the storming of Al Franken's office with Bill Clinton victims Kathleen Willey, Juanita Broderick and Leslie Milwee.  He is a media analyst and online watchdog for the intersection of media, tech. and government. Brian is also the Editor- In - Chief of MediaEqualizer.com, and he recently launched Red Wave America PAC to help get out the Republican vote for the Midterm elections.  You can find him on Facebook @RedWaveAmerica and at RedWave.vote.  

John Guandolo joined the FBI in 1996, and moved into the Counterterrorism Division where he developed an expertise in the Muslim Brotherhood, Islamic Doctrine and the global Islamlic Movement.  He is the founder of UnderstandingTheThreat.com, an organization dedicated to providing strategic and threat- focused consultaion, education and training for federal, state and local leadership in their effort to defeat the Jihadi threat.  He is the co- author of "Shariah- The Threat to America" which focuses on the enemy threat doctrine, and "Raising A Jihadi Generation- Understanding The Muslim Brotherhood Movement in America".  
BROADCAST WORLDWIDE:
TUESDAYS:  9:00PM (eastern) on:
WJHC - Talk 107.5FM
WDDQ - Talk 92.1FM
WLBB - News Talk 1330AM / 106.3FM
MoJo50 Radio

And on our Digital Flagship Station:   TALK AMERICA RADIO -  The NEW Dominant Force in Conservative Talk Radio
Visit our website at:  CowboyLogic.us

#CowboyLogic
#TalkAmericaRadio