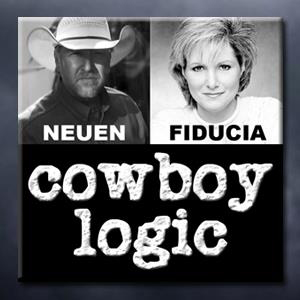 COWBOY LOGIC RADIO:  Unfiltered  /  Politically Incorrect  /  Common Sense
Hosted by DONNA FIDUCIA, a former Fox News Channel Anchor and DON NEUEN, a politically incorrect cowboy…
THIS WEEK'S GUESTS:  CLARE M. LOPEZ  /  EVAN SAYET  /  MARK MILLS

Clare Lopez is the Vice President for Research and Analysis at the Center For Security Policy: CenterForSecurityPolicy.org and SecureFreedom.org.  Clare is a policy and intelligence expert with a focus on National Defense, Islam,Iran and Counter- terrorism issues.  She is a former Career Operations Officer with the CIA.  She was named to the Congressional Task Force on National and Homeland Security which focuses on the Electro Magnetic pulse, (EMP), and it's threat to America.  She served as a member of The Citizens Commission on Benghazi and is a regular contributor to print and broadcast media such as Newsmax.com, Glassoffgang.com, and Sharia Crime Stoppers with Tom Trento's TheUnitedWest.org.  She is the author of "The Rise of The Iran Lobby" and the Center's study: "Sharia: The Threat to America" and the Secure Freedom Strategy: A Plan For Victory Over The Global Jihad Movement."  She has also written for The Daily Caller, DailyCaller.com and the Citizen's Commission On National Security, CCNationalSecurity.org.

Evan Sayet is a Conservative Comedian, Master Of Ceremonies and political Philosopher, which isn't easy to be!  He was born in New York and moved to California to pursue a career in stand- up comedy.  After 9-11 he re- thought, or actually thought about his political beliefs for the first time.  He came to realize he was a knee- jerk Liberal but in reality was a Conservative at heart.  Evan's book, "In The Kindergarten Of Eden, How The Modern Liberal Thinks", was a bestseller.  In his latest book is "Apocali Now", a faux children's book illustrated by the wonderful political cartoonist A.F. Branco, Evan continues to get his point across using his comedic wit and entertaining illustrations.  Evan's speech before The Heritage  Foundation was touted by Andrew Breitbart at the time and remains, to this day, one of the single most viewed lectures in the Heritage Foundation's history.  He has written  for Breitbart and TownHall.com among others and you can see all his work and purchase his new book at his website:  EvanSayet.com, or through Amazon.

Mark Mills is a senior fellow at the Manhattan Institute and a partner in Cottonwood Venture Partners, an energy- tech venture fund and author of the recent report: "The New Energy Economy- An Exercise in Magical Thinking".  He also wrote about how windmills and solar panels are far from environmentally friendly.  Mark has written for The Wall Street Journal, Forbes and Real Clear Energy.  Follow him at: Tech-Pundit.com, The ManhattanInstitute.org, and on twitter @MarkPMills and @ManhattanInst.

BROADCAST WORLDWIDE:
WJHC - Talk 107.5FM
WDDQ - Talk 92.1FM
MoJo50 Radio
iHeartRadio
Cowboy Logic Radio
Visit our website at:  CowboyLogic.us
Email us at:  CowboyLogicRadio@gmail.com