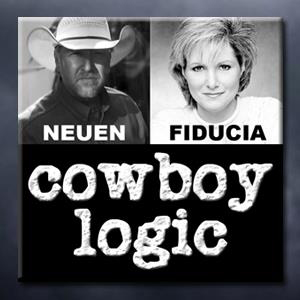 COWBOY LOGIC RADIO:  Unfiltered  /  Politically Incorrect  /  Common Sense
Hosted by DONNA FIDUCIA, a former Fox News Channel Anchor and DON NEUEN, a politically incorrect cowboy…
THIS WEEK'S GUESTS:  TOM DEL BECCARO  /  DR. MICHAEL BUSLER  /  KATHLEEN WILLEY

Tom Del Beccaro is the former Chairman of the California Republican Party.  He's a contributor to The Washington Examiner, The Epoch Times, Breitbart, The Daily Caller and Forbes.  Tom's is also the author of the books: The New Conservative Paradigm and The Divided Era.  The Wall Street Journal and the The New York Times recently referred to the political divide now in the US as THE DIVIDED ERA!  Unfortunately it's where we seem to be headed today.  You should bookmark Tom's website:  PoliticalVanguard.com.  There you'll find a host of information from a number of political thinkers today as well as Tom's latest columns and information on his books.

Dr. Michael Busler is a public policy analyst and economics expert and Professor of Finance at Stockton University in New Jersey.  His columns have been featured in Newsmax, Lifezette, TownHall.com, The Hill and The Daily Signal.  Dr. Busler discusses economics in the Trump Era, the benefit of less regulations, the Fed raising interest rates repeatedly and how we are at a tipping point with over half of the country getting more in welfare that it pays in taxes.  Find Dr. Busler on Facebook at:  FUNDING DEMOCRACY and on Twitter @mbusler.

Kathleen Willey is a victim and survivor of President Bill Clinton along with Juanita Broaddrick, Paula Jones, Leslie Milwee and Jennifer Flowers just to name a few.  She authored: Target, Caught In The Crosshairs Of Bill And Hillary Clinton, which is available on Amazon.  Despite that the #metoo movement essentially ignored these women.  But Kathleen also worked at the White House and as we get into the Christmas season she gave us a radio Christmas Card talking about what most people will never see- all the rooms in the White House decorated for the Holidays, portraits that hung on the walls of the various rooms, pictures that were changed out and what it was like working in the  social office of the White House right down to the china pattern that each President and First Lady picked.  Kathleen is active on Facebook and again her book is available on Amazon.     
BROADCAST WORLDWIDE:
TUESDAYS:  9:00PM (eastern) on:
WJHC - Talk 107.5FM
WDDQ - Talk 92.1FM
WLBB - News Talk 1330AM / 106.3FM
MoJo50 Radio

And on our Digital Flagship Station:   TALK AMERICA RADIO -  The NEW Dominant Force in Conservative Talk Radio
Visit our website at:  CowboyLogic.us

#CowboyLogic
#TalkAmericaRadio