Episodes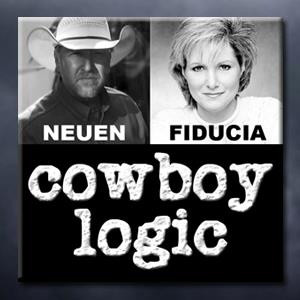 Tuesday Dec 18, 2018
Tuesday Dec 18, 2018
COWBOY LOGIC RADIO:  Unfiltered  /  Politically Incorrect  /  Common Sense
Hosted by DONNA FIDUCIA, a former Fox News Channel Anchor and DON NEUEN, a politically incorrect cowboy…
THIS WEEK'S GUESTS:  ADMIRAL JAMES 'ACE" LYONS  /  LUCRETIA HUGHES  /  SIDNEY POWELL

Admiral James "Ace" Lyons, of the "Greatest Generation" passed away a few weeks ago.  Don and I had the pleasure of having on our show and introducing him in January of 2018 at the South Carolina Tea Party Coalition Convention.  "Ace" served in the US Navy for 36 years as a Surface Warfare Officer, including Commander in Chief of the US Pacific Fleet, the largest single military command in the world. He also served as Senior Military Representative to the UN.  As Deputy Chief of Naval Operations from 1983-1985, he was principle advisor on all Joint Chiefs of Staff matters.  Admiral Lyons was also Commander of the US Second Fleet and Commander of the NATO Striking Fleet.  He represented US interests with military and civilian leadership worldwide, including Europe, Russia, China, Japan, other Pacific Rim countries.  As Fleet Commander he managed a budget of over $5 billion and controlled a force of 250,000 personnel.  "Ace" was a graduate of the US Naval Academy and received post graduate degrees from the US Naval War College and the US National Defense University.  RIP Admiral James "Ace" Lyons, a true American patriot.

Lucretia Hughes is one of the most inspirational speakers you will ever hear!  She is a Constitutional Conservative and a VERY outspoken mother, who had 4 kids before the age of 20, and a grandmother of 7.  She initially supported Obama for President, but has come to realize the opportunities this country has to offer and victimization The Left foments doesn't help anybody.  She lost a son to gun violence, yet she is an outspoken advocate of the NRA and serves as one of their spokespeople.  Her message is simple: God, Family and Country.  She has spoken at many rallies, including the #Walkaway rally in DC.  She has a new video titled: "Get Back Right With God."  See all her works in progress at FallbackProductionStudios.com  and listen to her Daily messages on Youtube under Lucretia Hughes, and on Youtube and Facebook at: Lucretia's World- A Patriot's Point Of View.  Her messages are straight from the heart as she "Fights for every patriot that does not have a voice."

Sidney Powell is is an Attorney and lead counsel on more than 500 Federal Appeals cases.  You've seen her on Hannity,Fox News and Fox Business among many other outlets.  She is also the author of: "Licensed To Lie: Exposing The Corruption in the Department Of Justice"  Although written years ago all the major players in the Mueller Investigation and their past antics are highlighted.  Their "investigations" resulted in tens of thousands losing their jobs.  Eventually many big cases were overturned but as in the case of many now, lives were ruined.  In her recent article in The Daily Caller she lays out the case for the Mueller team to be fired especially given the railroading of Lt. Gen.Michael Flynn.  Sidney is an elected member of the American Law Institute and a former President of The American Academy of Appellate Lawyers.  She is currently a Senior Fellow and the LondonCenter For Policy Research.  You can follow Sidney on Twitter @SidneyPowell1, and her websites: LicensedToLie.com. CreepsOnAMission.Com and SeekingJustice.org.  

BROADCAST WORLDWIDE:
TUESDAYS:  9:00PM (eastern) on:
WJHC - Talk 107.5FM
WDDQ - Talk 92.1FM
WLBB - News Talk 1330AM
MoJo50 Radio
iHeartRadio

And on our Digital Flagship Station:   TALK AMERICA RADIO -  The NEW Dominant Force in Conservative Talk Radio
#TalkAmericaRadio
Visit our website at:  CowboyLogic.us