Episodes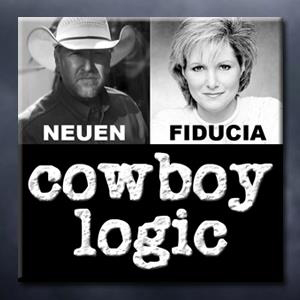 Tuesday Dec 27, 2016
Tuesday Dec 27, 2016
COWBOY LOGIC RADIO:  Unfiltered  /  Politically Incorrect  /  Common Sense
Hosted by DONNA FIDUCIA, a former Fox News Channel Anchor and DON NEUEN, a politically incorrect cowboy…
THIS WEEK'S GUESTS:  KAREN WATSON  /  DAVID RAY  /  NEAL BOORTZ

Segment 2:  We are joined by our friend KAREN WATSON, author and lawyer.  Universally hated by liberals and moderates in both parties because she unapologetically tells it like it is.
Karen doesn't cry under attack, and you'll never find her trying to be on both sides of an issue. Why? Because she is a "momma grizzlies" who knows liberty is in grave danger.
She doesn't have time to play politically correct "kissy face" with spineless cowards who don't know how to fight for what matters.
Karen Watson is conservative, female, black, and bold – a "momma grizzly."
Hear this no-holds-barred Texas conservative woman blast away at the myths that keep people in bondage to political power brokers. Don't miss this straight-talking lady! Karen Watson tells it like it is because she's qualified to speak it.
Founder and President of GOPBuzz.com, an internet portal for Republican-centric events nationwide, Karen Watson has written "Being Black and Republican in the Age of Obama", and discusses her latest book, "How Democrats Stole the Black Vote"...
Segment 3:  DAVID RAY from the Federation for American Immigration Reform joins us to discuss all issues related to our failed immigration system, H1B visa, H2B visas, Trump's immigration plan vs. Obama's

Segment 4:  We are joined by our dear friend, the Talk Master himself, NEAL BOORTZ for what is always an unfiltered, straight to the point discussion from in our opinion, the greatest Talk Radio Host to ever grace the airwaves!

BROADCAST WORLDWIDE:
TUESDAYS:  9:00PM (eastern) on:
WDDQ - Talk 92.1FM
WJHC - Talk 107.5FM
RED NATION RISING RADIO
Visit the Official Cowboy Logic Radio website!
#RedNationRising #Radio